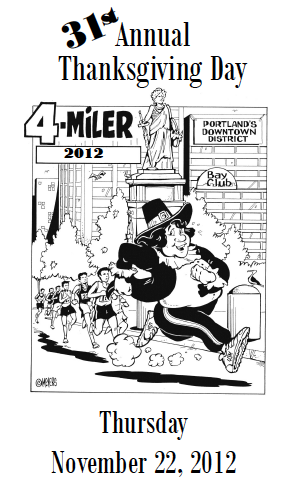 When I found out I was going to be home for Thanksgiving last week I went ahead and signed up for the annual Thanksgiving Day 4 Miler. I just love doing an organized race on Thanksgiving- it gives me such hope for the future to see so many families out there running together.
I woke up feeling a little queasy this morning, which may have been the result of too many pumpkin beers last night at Seadog. But I have also just been feeling a little off this week. So I decided not to set a goal and just run what felt good.
After a small turkey panic (it was still frozen inside, despite being out of the freezer for 4 days), I got the turkey in the oven and headed out towards Portland. The race started right downtown at One City Center, which is about 2.5 miles from house. I thought running there would be a nice warm-up and alleviate the hassle of parking.
It was a sunny, about 33 degrees, and crystal clear. It was so pretty running over the Casco Bay Bridge and looking out over the harbor and at the city skyline. I timed it just right and got to the start line about 8 minutes before the start. I milled around to keep warm. It was a way bigger race than I though, more than 2,000 people!
I was back from the starting line, so I had no idea what was going on up-front. The starting cannon about gave me a heart attack. The course was 2 loops through the city with a nice mix of up-hills and down. At mile 1 I looked at my watch and saw I did the first mile in 8:20. At that point I started to consider goals. I settled on a 8:30 mile pace goal. Then I just ran. I liked the 2 loops because I knew exactly what was coming in the second loop, so I knew when to push and when to ease off.
I loved running right through the heart of the city. At one point
Under the Bridge
by Red Hot Chili Peppers came onto my i-pod and I sang out loud "at least I have her, the city she loves me." I LOVE Portland and I am so happy I moved back to Maine. The race flew by. I cruised into the finish in 33:20. Super fast for me! It's nice to know that I can run fast when I try.
Now I have some cooking to do.
Happy Thanksgiving Friends!